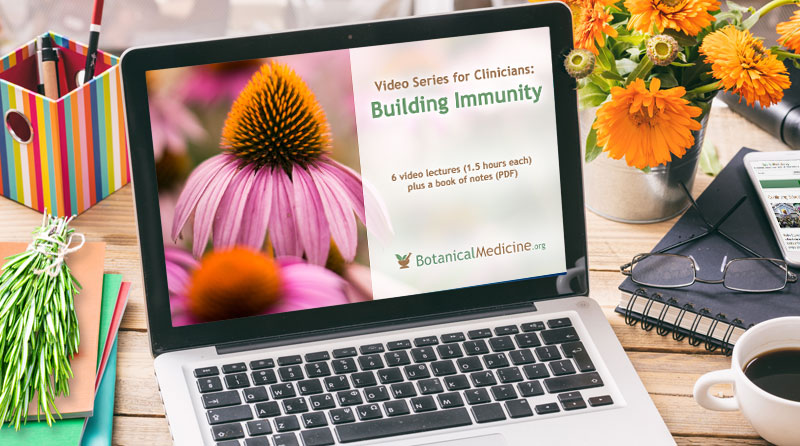 A video series for health care providers – with continuing education for naturopathic physicians – bundled together in one discounted package:
Six (6) video lectures (1.5 hours each)
Digital book of notes (89-page PDF)
Continuing education credits for naturopathic physicians
Order with one click for $89 ($135 value)
Note: The information in this series is provided as a research resource for health professionals and is not intended to replace diagnosis and treatment by a qualified health care practitioner.
---
Video Series Details
(See below for titles and descriptions of videos)
One click orders all six videos selected from the 2020 conference season (4 videos from Medicines from the Earth and 2 from the Southwest Conference on Botanical Medicine), plus an 89-page pdf of notes. Together these provide comprehensive information on the clinical management of immune conditions.
The series begins with an overview of immunity from childhood to the elder years, followed by a more detailed look at the lymph system and the role it plays in immunology.
Specific immune challenges are then addressed, including the influence of estrogen on autoimmunity, managing acute viral respiratory infection, a panel discussion on immune-centered illness and, finally, the latest research on managing COVID-19. (This was recorded in March 2020, just as the pandemic was spreading, so the speaker, Donald Yance, provided an update in August 2020 featuring all the latest research findings. The updated article link is included in the pdf of lecture notes for the series).
Video presentations offer complete clinical information, with the speaker and the PowerPoint playing together in an ideal format for online learning.
(Series price of $89 includes an 89-page PDF of lecture notes.)