Our goal is to offer the highest quality information on herbal medicine through our herbal conferences, audio recordings, videos and books — which provide opportunities for continuing education in areas such as integrative medicine, naturopathic medicine, complementary medicine and holistic medicine. Over a thousand audio, video and lecture notes files to choose from by the most experienced practitioners and herbalists in the country.
If you can't find what you need on the site, please don't hesitate to contact us. We will be more than happy to help with recommendations for recordings, lecture notes and conferences. We look forward to hearing from you!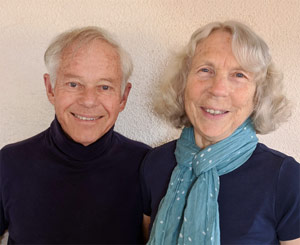 Herbal Educational Services
Ashland, Oregon
(541) 482-3016
Organizing herbal medicine conferences since 1993. Click here for details about continuing education (CE) or our next herbal conference.
---
NEWS: ABC Announces Annual Herbal Community Builder Award Recipients


(Austin, TX. February 25, 2019)  The nonprofit American Botanical Council (ABC) has announced the recipients of its annual ABC Mark Blumenthal Herbal Community Builder Award. The award for 2018 goes to Linnea and Larry Wardwell, a husband and wife team who have been organizing and promoting herb conferences for over 25 years.
The annual award, named for ABC Founder and Executive Director Mark Blumenthal, is given to individuals who have played a significant role in creating a sense of community among herbalists, botanical researchers, members of the herb and natural products communities and industries, and others who work in the area of medicinal and aromatic plants.
The Wardwells have contributed significantly to the herbal education of literally tens of thousands of individuals helping build and strengthen the herbal community. Through their company, Herbal Educational Services, they organize and promote the annual Medicines from the Earth conferences in Black Mountain, North Carolina, and the annual Southwest Conference on Botanical Medicine at the Southwest College of Naturopathic Medicine in Tempe, Arizona. Additionally, they have recorded most of the presentations and compiled extensive conference proceedings, making them available via their company – what Blumenthal calls "an important and highly useful herb educational resource." Many of these recordings and proceedings are part of approved continuing education modules for health professionals.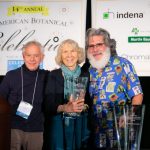 "Linnea and Larry Wardwell have given so much of their heart and soul to these conferences to ensure that there are the highest quality presenters for the best learning experience for the attendees," said Ric Scalzo, founder of Gaia Herbs. "They have acted lovingly and consciously out of a deep sense of stewardship – for the earth, for the plants, and for conference attendees who have become part of the herbal community."
Herbalist, author, and founder of herb company Herbalist & Alchemist, David Winston, who has been a teacher at almost every Medicines from the Earth conference, lauded the Wardwells and their recognition with the award.
"I cannot think of many people in the American herbal community more deserving of the ABC's Mark Blumenthal Herbal Community Builder award than Linnea and Larry Wardwell. Quietly behind the scenes, Linnea, Larry, and their staff have planned and supervised two of the most important clinically-oriented American herbal conferences since the 1990s. Through these conferences they have brought together the foremost teachers of clinical herbalism, naturopathic medicine, functional medicine, Traditional Chinese Medicine, Tibetan medicine, and Ayurveda with thousands of eager students (many of whom are health professionals). In order to make this vital information more available, they have also produced yearly proceedings and recordings for both conferences that are a testament to both ancient healing traditions and the most up-to-date research in the herbal world," said Winston.
"Few people have had such a profound impact on herbal education as the Wardwells," continued Winston, "and it is time for them to step out from behind the computer and receive our sincere gratitude and congratulations for their dedication to making herbal medicine a safe and effective part of so many people's lives."
"I feel deeply grateful to be one of the teachers who has been invited to speak at the Medicines from the Earth conference numerous times in the beautiful mountains of western North Carolina," said Blumenthal. "One of the most important aspects of this conference that has continued to impress me (aside from the beautiful forest and the amazing herbal teachers!) is the fact that so many people continue to return to the conference year after year. To me, this is an important form of community building."
"It's highly fitting that Linnea and Larry would be involved in botanical medicine education," added Blumenthal. "A relevant anecdote: Linnea's mother, an avid organic gardener, named her daughter after the renowned 18th-century Swedish botanist Carl von Linne' (aka Linnaeus), the father of the botanical binomial nomenclatural system used in all modern scientific literature."
Previous recipients of the ABC Mark Blumenthal Herbal Community Builder Award are Jon Benninger (2017), director of the annual SupplySide East and West trade shows at Informa Exhibitions; Professor Ikhlas Khan, PhD (2016), the director of the University of Mississippi's National Center for Natural Products Research; Michael Tierra (2015), herbalist and co-founder of the American Herbalists Guild; Loren Israelsen (2014), president of UNPA; Sara Katz (2013), co-founder of Herb Pharm and past president of the United Plant Savers (UpS); and Rosemary Gladstar (2012), herbalist, teacher, author, and founder of UpS.
The Wardwells were presented their award at the 14th Annual ABC Botanical Celebration and Awards Ceremony held at Natural Products Expo West in Anaheim, California on March 6, 2019.