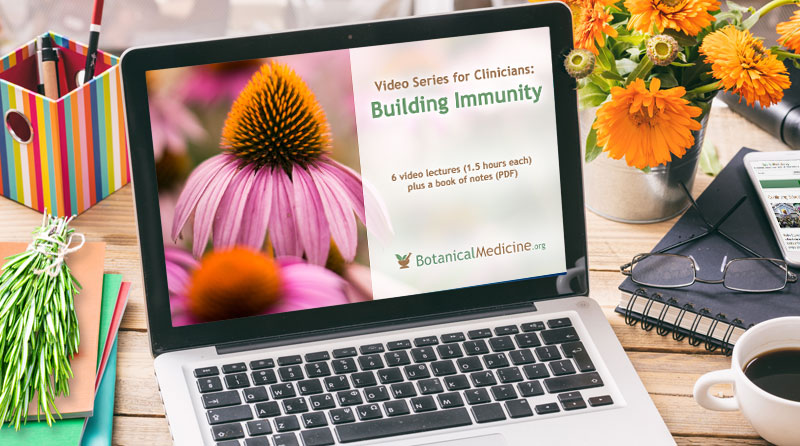 A video series for health care providers – with continuing education for naturopathic physicians – bundled together in one discounted package:
Six (6) video lectures (1.5 hours each)
Digital book of notes (89-page PDF)
Continuing education credits for naturopathic physicians
Order with one click for $89 ($135 value)
Note: The information in this series is provided as a research resource for health professionals and is not intended to replace diagnosis and treatment by a qualified health care practitioner.
---
Video Series Details
(See below for titles and descriptions of videos)
One click orders all six videos selected from the 2020 conference season (4 videos from Medicines from the Earth and 2 from the Southwest Conference on Botanical Medicine), plus an 89-page pdf of notes. Together these provide comprehensive information on the clinical management of immune conditions.
The series begins with an overview of immunity from childhood to the elder years, followed by a more detailed look at the lymph system and the role it plays in immunology.
Specific immune challenges are then addressed, including the influence of estrogen on autoimmunity, managing acute viral respiratory infection, a panel discussion on immune-centered illness and, finally, the latest research on managing COVID-19. (This was recorded in March 2020, just as the pandemic was spreading, so the speaker, Donald Yance, provided an update in August 2020 featuring all the latest research findings. The updated article link is included in the pdf of lecture notes for the series).
Video presentations offer complete clinical information, with the speaker and the PowerPoint playing together in an ideal format for online learning.
(Series price of $89 includes an 89-page PDF of lecture notes.)
Naturopathic CE: If CME has not previously been earned for the lectures listed below you can earn a total of 9 general CME hours, approved by the Oregon Board of Naturopathic Medicine.
---
Videos included in this series:
Addressing Immune Health through the Ages: Infants to Seniors
Mary Bove, ND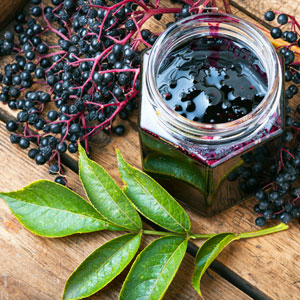 Let's talk immune health for all ages and what we can do to support this vital system. Plants contain a myriad of compounds that interact with the immune system, acting to nourish, balance, and support immune function. Review current science on several immune herbs for application and dosing along with fun simple recipes for the use as foods, beverages, and supplements. Herbs discussed: echinacea species, elderberry, astragalus, medicinal mushrooms, oregano, garlic, onions, and ginger. (Product Code: 20ME10)
Lymphagogues and Alteratives: Lessons in Herbal Immunology


Kenneth Proefrock, ND
The goal of this discussion is to bring the physiology of lymphatic structures to life and investigate the far-reaching roles that botanical medicines are able to play in regulating or modifying lymphatic function. This is a key step toward integrating immunology with organ physiology and ultimately managing many complex pathologies. There is an inevitable convergence of immunology with other disciplines through their common reliance on the lymphatic system which has important implications for various inflammatory and other diseases. (Product Code: 20ME19)
Women, Autoimmunity and Estrogen Metabolism


Mary Bove, ND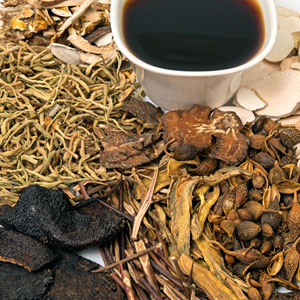 Hormonal imbalances impact a woman's health and contribute to manifestations of autoimmune disease in menopausal women. Review estrogen metabolism pathways and identify botanical, nutritional, dietary and lifestyle interventions for autoimmune conditions common to women. A traditional herbal approach combined with an evidence-based review of current research examines potential botanical and nutritional treatments for hormonal regulation, optimizing estrogen metabolism, quenching free radicals, turning down the inflammatory pathways, and offering symptom relief. (Product Code: 20ME15)
Acute Viral Respiratory Infection: Prevention and Therapeutics


Paul Bergner
A presentation of nutritional and herbal considerations for epidemic respiratory viral infections, including lifestyle and dietary issues to support host resistance, botanical immune support, and specific therapeutics for the stages of fever and for dry cough. (Product Code: 20SW03)
Panel: Clinical Approaches to Immune-Centered Illness


Chanchal Cabrera, MS, Mary Rondeau, ND and Katie Stage, ND
Each panelist describes their principal approach when presented with an immune-centered illness (whether autoimmune, cancer, etc.) What are the three main areas of focus when seeing a patient for the first time? What three systems do we consider (e.g. HPA, endocrine/thyroid, metabolic, etc?) What are the most important labs? What are the three main botanical approaches and the three main dietary and lifestyle approaches we start with in such situations? (Product Code: 20ME31)
Targeting COVID-19 with Natural Medicine


Donald Yance, CN, RH (AHG)
Includes information on these aspects of the novel coronavirus:
The dualistic role of the immune system and COVID
The immune system, nervous system, and endocrine system connection
Warning to those taking specific pharmaceuticals, namely NSAIDs, ACE inhibitors, and even PPIs
Botanical medicine and COVID – prevention, first-line treatment, and adapting for specific presenting symptoms/complications, age, secondary chronic disease, and constitutional makeup
The importance of a fever and how to use diaphoretic herbs in conjunction
Specific diet recommendations and nutrients for prevention and treatment
Other modalities: sinus flush, bath therapy, chest rubs and poultices, meditation, laughter, etc. (Product Code: 20SW27)
Plus Video Series Lecture Notes in PDF Format (89-page digital book) included in the $89 package price.