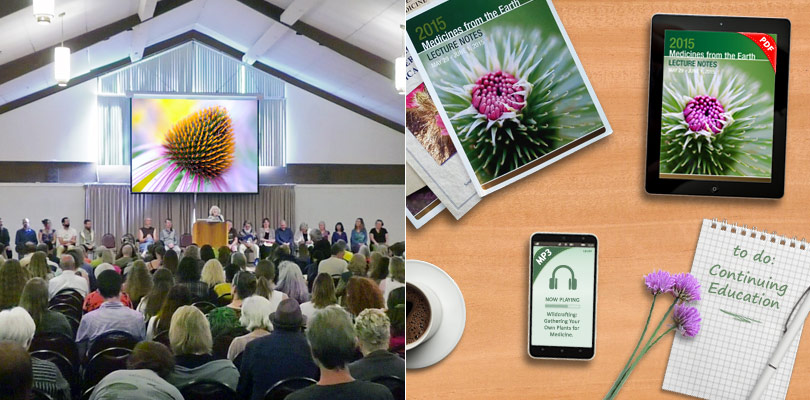 Herbal Educational Services has proudly offered continuing education (CE) for health professionals since 1996. Our live events offer:
---
Distance Learning Continuing Education
Presentations from the 2019 events are available. Listen to audio recordings and earn CE credits:
NATUROPATHIC PHYSICIANS:
Naturopathic continuing education (CME/Continuing Medical Education) information. Also see Distance learning instructions.
NURSES:
CNE (Continuing Nursing Education) information on contact hours. Also see Distance learning instructions.
---
This is my first time here at the symposium, having a great time, learning a ton. Lecture for lecture, this is probably the most intellectually stimulating conference that I've ever been to, across the country.
---
---
Live Events
Earn Continuing Education Credits at our conferences too, and join other practitioners for a weekend of education and inspiration.
Medicines from the Earth Herb Symposium, May 29 – June 1 at Blue Ridge Assembly in Black Mountain, NC
Application approved for up to 22.5 PDA hours for acupuncturists (NCCAOM).
Application submitted for up to 21.5 CME hours for naturopathic physicians, of which 9 can be pharmacy (OBNM).
Application submitted for up to 22 CNE contact hours for nurses (ANCC). Full continuing education details.
Past Conference
Southwest Conference on Botanical Medicine
Registration is now closed. Presented by video streaming in March 2020. Video and audio recordings of this conference will be available soon at www.botanicalmedicine.org.
---
---
Our events, recordings and notes also provide opportunities for continuing education in areas such as:
integrative medicine
naturopathic medicine
complementary medicine
functional medicine
holistic medicine
Contact us for questions regarding CE, CEU, CME, CNE, and PDA  — we'll be happy to help!