May 31 – June 3, 2019
---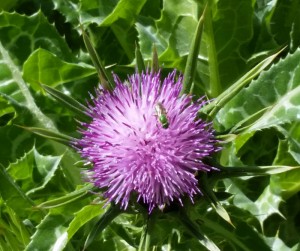 Annual symposium at Blue Ridge Assembly, Black Mountain, NC
Theme:Current Research on Aging Disorders and Botanical Solutions
Highlights: More than 40 presentations on clinical applications of botanical medicine.  PLUS Friday field study and pre-conference intensive, panel discussions, medicine-making classes and herb walks in a beautiful retreat setting.
See speaker and topic list below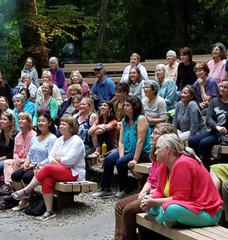 Registration Fees
$329 by March 5
$399 by April 12
$459 after that date
Registration fee covers all lectures, panel discussions and other group meetings. Intensives, lodging and meals are extra.
---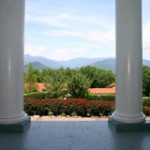 Blue Ridge Assembly, 84 Blue Ridge Circle, Black Mountain, North Carolina
The symposium site is nestled on a mountainside surrounded by 1200 forested acres with two rushing streams. Lodging, dining and lectures are all within walking distance. Blue Ridge Assembly is 40 minutes east of Asheville, NC.
All-inclusive lodging and meal packages start at $222 for three night's lodging and eight meals. Commuter meals are also available for $74 for the weekend. 
Register for lodging online here or download a printable housing form. Blue Ridge does not take reservations by phone, only online and by fax, email and snail mail.
---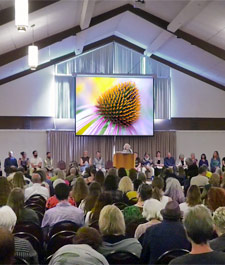 Continuing Education Credits (NEW! Please sign up for your CE credits when you fill out your registration form).
Pending approval, we offer CE, CME, CNE, PDA and CEUs for:
Acupuncturists:

Maximum 22.5 PDA (hours) includes Friday Field Study (no extra charge). NCCAOM approval pending.
Naturopathic Physicians: Maximum 21.5 CME hours of which 10 hours can be pharmacy (includes Friday Pre-conference intensive) No extra charge. OBNM approval pending.
Nursing: Maxiumum 21.5 CNE contact hours includes attendance at Friday pre-conference intensive. (Note: $35 charge for nursing CNE due to high cost of new application.) ANCC approval pending.
Pharmacists Licensed in North Carolina: 17.5 hours for main conference only. NCAP approval pending.
We will post application status and approvals as they are available. Applications to be submitted in December.
---
SPECIAL SYMPOSIUM EVENTS
(See speaker and topic list below)

---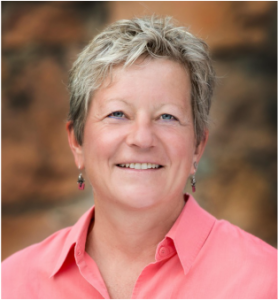 Pre-conference Intensive with Lise Alschuler, ND
Title: The Impact of Stress on Accelerated Aging: Botanical Remediation
Date: Friday, May 31, 2019
Time: 1:00 – 5:15  PM (Registration at 12:30 PM)
Place: Blue Ridge Assembly
Cost: $89
Open only to registered symposium participants.
Description: The pathophysiological impact of chronic stress is complex, pervasive and  reversible. Provides current understanding of the maladaptive stress response, Circadian rhythm disorder, and cortisol resistance.  Explores the associated endocrine, immune, musculoskeletal, neurological and digestive consequences as components of premature aging. 
Continuing Education: Applications to be submitted for 4 hours credit for acupuncturists, nurses and naturopathic physicians (2 general and 2 pharmacy hours for NDs).
---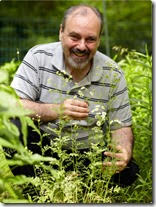 Ethnobotanical and Native Plant Field Study with David Winston
Date: Friday, May 31
Time: 10 AM – 3 PM
Cost: $69
Location: Blue Ridge Assembly (outdoor class)
Open: only to registered symposium participants. 35 person limit
Description: Herbalist, ethnobotanist and researcher David Winston leads a journey into the traditional and current uses of the plants found on the grounds of Blue Ridge Assembly. This event fills every year so please register early!
---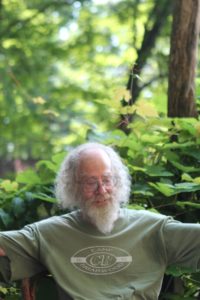 Ecology, Propagation and Cultivation of Native and Oriental Medicinal Herbs at Mountain Gardens with Joe Hollis

Date: Friday, May 31
Time: 1:30 PM – 5:30 PM
Cost: $59
Location: Mountain Gardens in Burnsville, NC (about an hour from Blue Ridge Assembly)
Open: only to registered symposium participants. 25 person limit
Description: Note: Because so many people were turned away last year, Joe has decided to host another class in 2019. If you'd like to attend this intensive please include it in your symposium registration as soon as possible since it will fill very quickly. Mountain Gardens is a forty-year-old botanical garden of useful plants incorporating the largest collection of medicinal herbs in the eastern US. Joe teaches the techniques of cultivation and propagation he has been honing for over 40 years. More on Mountain Gardens here.
---

Sunday Intensive: The Chemistry, Pharmacology, Extraction and Safety of Cannabis and Insights into the Endocannabinoid System with Kevin Spelman, PhD
Date: Sunday, June 2
Time: 2 – 5:30 PM
Cost: $79
Location: Blue Ridge Assembly
Open only to registered symposium participants
Description: The physiology of the human endocannabinoid system lays the groundwork for understanding the application of Cannabis in health and recovery from disease, including applications for mood disorders, seizures, cancers and the neuroprotective activity of both THC and CBD. More
---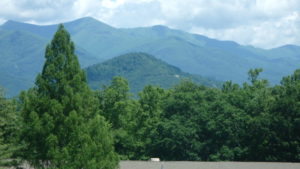 Medicines from the Earth Speakers and Topics
Symposium begins at 8:30 AM Saturday, June 1 and ends at 2:00 PM Monday, June 3.
Pre-conference events (Intensive and Field Study) are Friday, May 31. Click speaker name for more information.
7Song
1. A Botanical Field Walk (Outdoors)
2. Treating Chronic Illness with Herbal Medicine-Useful Plants and Formulas for the Practicing Herbalist: Lyme Disease, Long-Term Mental Health Conditions and Pain Syndromes
Lise Alschuler, ND
1. Intensive: Impact of Stress on Accelerated Aging: Botanical Remediation
2. A Tale of Cancer and our Aging Genome
3. Breast Cancer Update
Abby Artemisia
1. Herbs in the Trees (Outdoor Walk)
Teresa Boardwine, RH (AHG)
1. Longevity Elixirs (Demonstration)
2. Foods to Keep Aging at Bay (Demonstration)
Mary Bove, ND
1. Slow the Decline: New Developments in Brain Boosting Herbs
2. Calm, Cool and Uplifted with Mood Enhancing Plants
3. Boost your Fertility: A Pre-Fertility Prep Program for Men and Women
Jeannie Dunn and Tricia Shapiro
1. Backyard Herbal First Aid Kit
Doug Elliott
1. Herb Walks
1. Friday Intensive: Ecology, Propagation and Cultivation of Native and Oriental Medicinal Herbs at Mountain Gardens ($59)
Kat Maier, RH (AHG)
1. Five Allies for our Times: Lobelia, Poke, Prickly Ash, Motherwort and Black Cohosh
2. Herbal Support for Managing Chronic Bronchitis and Asthma
3. Plant Walk: Establishing Plant Relations
Jason Miller, DACM, LAc 
1. Men's Health: The Prostate and Other Conditions
2. TBA
Kenneth Proefrock, ND
1. The Persistence of Memory: Oneirogenic Plant Medicines, Personal Identity and the Dream State
2. Herbal Medicine and Eye Health (Includes demonstration of external eye remedies)
3. Botanical Interventions in the Treatment of Liver Conditions-Including Fatty Liver Disease, Fibrosis, and Gall Bladder Dysfunction
Mary Rondeau, ND
1. Treatment of Mood Disorders with Botanicals, Lifestyle, Diet and Nutraceuticals
2. ADD and ADHD in Adults and Children: Assessment, Laboratory Considerations and Treatment
3. The Anti-Aging Power of Sleep
Kevin Spelman, PhD
1. Intensive Sunday Afternoon: The Chemistry, Pharmacology, Extraction and Safety of Cannabis and Insights into the Endocannabinoid System
2. Organ Reserve: Aging Gracefully
3. The Latest Research on Botanicals for Psychiatric Conditions
Jill Stansbury ND
1. Types of Pain and Herbal Management Tools
2. Depression in the Elderly
3. Naturopathic Therapies for Stroke Recovery
David Winston, RH (AHG)
1. Friday Field Study
2. Nervines: Building a Better Foundation for the Nervous System
3. TCM and Ayurvedic Herbs that Western Clinicians Really Need to Know
---
We hope to see you there!
Questions? Please contact us and we'll be happy to help!