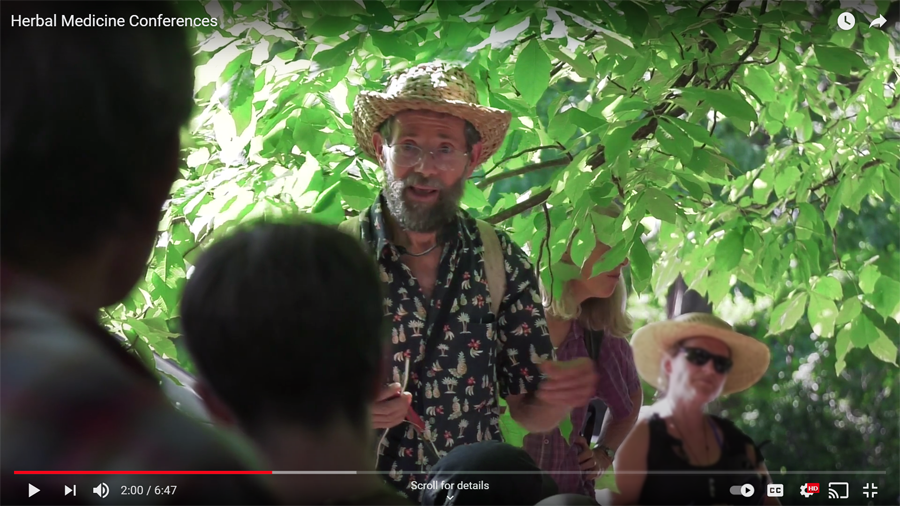 Join Doug Elliott at Herb Mountain Farm in Weaversville, NC on Saturday 6/5 for a one-of-a-kind herb walk for Medicines from the Earth Herb Symposium! This beloved herbalist, author, and storyteller will delight and amaze you with his practical, scientific and cultural knowledge of many useful wild plants.
As a naturalist, herbalist and storyteller, Doug Elliot knows ancient plant lore, plant riddles and even sings songs about weeds and berries. His lively, informative plant walks and storytelling sessions create special memories for attendees of the Medicines from the Earth Symposium.
Doug Elliott is a naturalist, herbalist, storyteller, basket maker, philosopher, and harmonica wizard who has performed at festivals, museums and schools from Canada to the Caribbean. He has been a featured storyteller at the National Storytelling Festival in Jonesborough, TN and has conducted workshops and programs at the American Museum of Natural History in New York, the Royal Ontario Museum in Toronto and the Smithsonian Institution. He has trained rangers for the National Park Service and guided people on wilderness experiences from Down-east Maine to the Florida Everglades. He was named harmonica champion at Fiddler's Grove Festival in N.C.

Doug regularly writes articles for regional and national magazines. He has authored five books, produced a number of award winning recordings of stories and songs, and is occasionally seen on PBS-TV and the History Channel.

Whether he's singing about catfish, pontificating on possums, extolling the virtues of dandelions, cawing with crows, pondering the "nature" in human nature, telling wild snake tales or wailing out a jivey harmonica tune, storyteller, Doug Elliott will take you on an unforgettable, multifaceted cultural tour celebrating North America's back country. He performs a lively concert of amazing tales, lively tunes, traditional lore, outrageous personal narratives, and fact stranger than fiction. He flavors it all with regional dialects, lively harmonica riffs, and more than a few belly laughs.