NEWS: ABC Announces Annual Herbal Community Builder Award Recipients

Linnea and Larry Wardwell have organized conferences on botanical medicine for over 25 years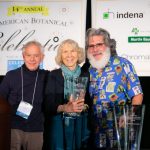 (Austin, TX. February 25, 2019)  The nonprofit American Botanical Council (ABC) has announced the recipients of its annual ABC Mark Blumenthal Herbal Community Builder Award. The award for 2018 goes to Linnea and Larry Wardwell, a husband and wife team who have been organizing and promoting herb conferences for over 25 years.
The annual award, named for ABC Founder and Executive Director Mark Blumenthal, is given to individuals who have played a significant role in creating a sense of community among herbalists, botanical researchers, members of the herb and natural products communities and industries, and others who work in the area of medicinal and aromatic plants. Continue reading