The world lost a great human being, environmental medicine expert and teacher with the passing of Walter J. Crinnion, ND on March 11, 2019.
Walter was a regular speaker at Medicines from the Earth for years, and he endeared himself to us by his wide-ranging knowledge of the effects of environmental chemicals on fertility, childhood health and obesity, but also by his hilarious sense of humor and quirky delivery. His presentations were filled with scientific data and never boring!
His life's work was preserved for us all in the recently published book Clinical Environmental Medicine: Identification and Natural Treatment of Diseases Caused by Common Pollutants by Walter Crinnion, ND and Joe Pizzorno, ND
Some memories:
Walter (right) sitting on the front porch surveying the view: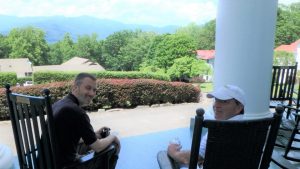 Walter (left), Jill Stansbury and Jason Miller after the Monday Panel in 2017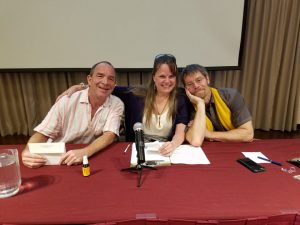 And Walter showing his passion for the plants and people of our herbal community
Walter you are missed by so many and we trust your spiritual quest continues, unabated. Here's a transcript from the panel discussion in 2016 on anxiety and depression. Some of you may remember that day:
"I personally have a belief that we are all spiritual beings living physical existence and getting the joy of experiencing five senses and relearning our spiritual truth, and saying, 'Oh, wait, this is who I really am!'
"There's a famous quote 'Our deepest fear is not that we are inadequate. Our deepest fear is that we are powerful beyond measure. It is our light, not our darkness that most frightens us.' 
The truth is, I am a being of the purest powerful, connected light source that there ever is!! Along with every single one of you, every single plant, every single bacteria, every single rock, every single bird, every single animal, every single….EVERYTHING– I'm flowing with it, baby! 
When I get in touch and actually meditate I feel that spiritual power, that spiritual flow….When I first felt it, I remember thinking, 'That's cool, but I am different, I am not that.' But the more I do my meditation, the more I realize, 'Wait! I am that. Oh cool I can have that energy run through my body and clear out all the stuff that isn't in alignment with it.' And when I'm in that space, all my fears are gone, my basic fears are completely, absolutely gone because they are not my truth. For me, depression and anxiety are being totally disconnected from my truth, and I am done abandoning my truth!'"
—-Transcript of Walter Crinnion, Panel Discussion, Medicines from the Earth, 2016