July 16 – September 3: Live Summer Video Series
Ongoing: Streaming Access Available to Recordings from Summer Video Series
Join us for a 6-video series with continuing education credits for naturopathic physicians and nurses. Topics include microbiome health, the nervous system, mental health, neuroplasticity, women's health and cellular repair. Attend individual sessions for $30/each or join the full summer series for $99.

NOTE: The live sessions for the series have concluded; however, registration is open for streaming access to the series recordings! Watch the recordings on your own schedule to earn CE.
See all registration details, the full schedule and continuing education details below.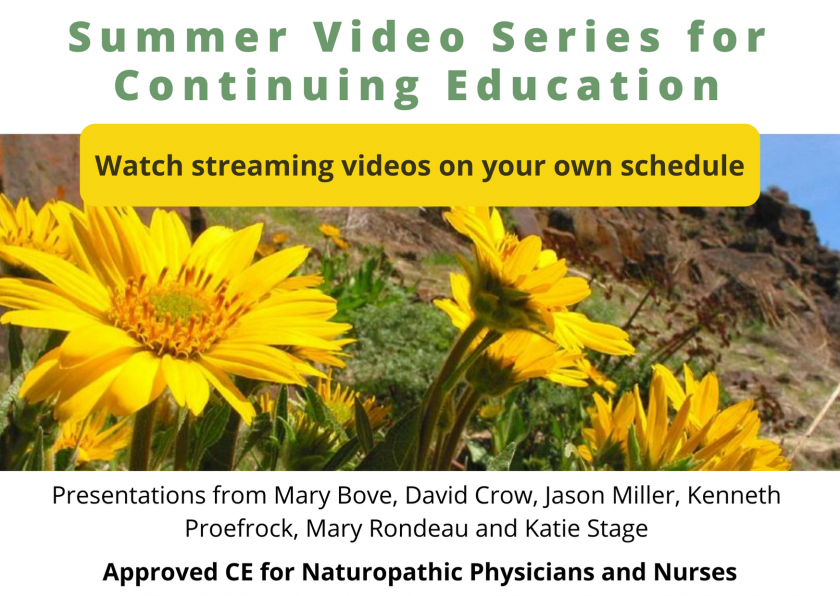 ---
Dates: 8-weeks of access to streaming video lectures; watch on your own schedule (see full schedule)
Session Details: Each session is a 90-minute video lecture with 30 minutes Q&A with the speaker
Where to Watch: Live sessions were aired on Zoom and concluded September 3. Streaming video recordings available on Vimeo.
Continuing Education: Available for nurses and naturopathic physicians. Full details below.
Registration Includes:
Streaming access on Vimeo for recordings of registered session(s) for 8-weeks
Complimentary online access to speakers' lecture notes
Full series registrants receive complimentary digital lecutre notes book

Continuing education certificate for nurses and naturopathic physicians
Cost: Individual sessions for $30 each or sign up for all 6 sessions for a package deal of $99!
Special Note for Medicines from the Earth Attendees: Through this series you can add to your knowledge from the Symposium and ask questions you weren't able to before! Please contact us for special pricing information available for you.


---
Session 1: Cultivating Skin Microbiome Radiance with Botanicals
Microbiome health reaches further than the gut, contributing to the health and wellness of the skin. The microbiome of the skin is better understood now than ever before and helps shed light on many chronic skin conditions and possible treatment strategies. Discussion of oral, systemic and topical botanical preparations along with probiotic strategies, and simple daily practices for a more radiant skin microbiome are all included.

Mary Bove, ND
A clinical medical herbalist, Mary Bove had a practice in family medicine in Brattleboro, Vermont for over 20 years. where she assisted at the birth of a whole generation of children. She is the author of An Encyclopedia of Natural Healing for Children and Infants, and co-author of Herbs for Women's Health. Since starting her herbal journey at age 18, Mary has held firm to three tenets: "Walk your talk, believe in the plants and practice herbalism every day in your life." More about Mary Bove.
Session 2: Anxiety: More than an Over Aroused State
Anxiety is commonly categorized as an over aroused state and thus treatments are recommended to "calm" or reduce over-activity in the brain. Cutting-edge brain mapping is now being used to identify multiple sub-types of anxiety. In addition to brain sub-types, body sub-types are also being identified. This presentation covers pharmaceuticals, nutraceuticals, botanicals, diet and lifestyle treatment modalities to truly individualize a plan for an anxious individual.

Mary Rondeau, ND, RH (AHG)
Mary Rondeau specializes in natural medicine for chronic illness in Fort Collins, Colorado. Following medical school training at SCNM and residency training in Utah, she continued her education in southern India, working in various hospital and private practice settings. Reducing medication for children is one of her areas of expertise, and she has found a combination of adjustments in diet, lifestyle and herbal and nutritional supplementation to be very helpful. More about Mary Rondeau.
Session 3: Neuroplasticity and the NMDA Receptor: Botanical and Nutritional Influences on Neurological Remodeling
Experience-dependent plasticity is a fundamental property of the brain and our nervous systems are constantly remodeling, but such remodeling can be impaired in a wide range of neurological and psychiatric disorders. Several clinical studies suggest that augmenting or reducing NMDA receptor signaling can have a significant impact on experience-dependent plasticity. Augmenting NMDA activity has the effect of improving cognition and mental processing, blunting NMDA activity has been shown to reduce PTSD episodes, anxiety and the frequency and severity of seizure activity. We discuss the neurotransmitter actions of glutamate, aspartate, glycine and serine on the NMDA receptor as well as the impact of NMDA agonists like Tabernanthe iboga, and take a look at some of the more recent pharmaceutical interventions that have been instrumental in informing our current perspective on NMDA activity.

Speaker: Kenneth Proefrock, ND
A naturopathic physician practicing in Sun City, Arizona, Kenneth Proefrock specializes in difficult to treat conditions in patients of all ages. He is the Vice President of the North American Board of Naturopathic Examiners and chair of the biochemistry portion of the Naturopathic Physician's Licensing Exam. More about Kenneth Proefrock.
Session 4: Principles of Combining Herbs and Essential Oils: Strengthening and Energizing the Nervous System
Because many botanicals that are neuroprotective, nutritive and aromatic are directly linked to the brain through the olfactory system, numerous essential oils can be combined with these herbs to enhance their properties in safe and effective ways. These herbs and oils produce a range of actions including supporting cognitive functions, protecting the brain against toxins and aging, increasing memory and concentration and enhancing learning capacity. Many are also antidepressant and increase resistance to stress and may provide long-term protection against neurodegenerative conditions.

Speaker: David Crow, LAc
A master herbalist, aromatherapist and acupuncturist with over 30 years experience, David Crow Is an expert in the Ayurvedic and Chinese medical systems. He is the author of In Search of the Medicine Buddha and the founder of Floracopeia, Inc. which supports ecologically sustainable agriculture in communities around the world. Through teaching and activism, he promotes the creation of grassroots healthcare based on community gardens. More about David Crow.
Session 5: Botanical Strategies for Pelvic Pain and Endometriosis
Chronic pelvic pain affects up to 39% of reproductive-aged women. This session will explore common and less common causes of pelvic pain, including endometriosis. This is an area of great opportunity for practitioners, and of great need for women affected, as conventional treatments are limited and often ineffective. We discuss botanical treatments for pelvic pain and endometriosis, as well as supportive lifestyle approaches.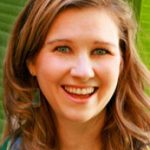 Speaker: Katie Stage, ND, RH (AHG)
Katie Stage is a naturopathic physician and professional member of the American Herbalists Guild. She is Associate Professor and Director of the Therapeutics Division at the Southwest College of Naturopathic Medicine (SCNM) in Tempe, Arizona. Her practice is focused on optimizing the health of those with endocrine, gastrointestinal, and mental health conditions. She is also a member of the Ric Scalzo Botanical Research Institute. More about Katie Stage.
Session 6: Botanicals and Other Therapies for Improving Mechanisms of Cellular Repair to Increase Lifespan
Research is showing that aging occurs at the most fundamental level of our bodies – the cellular level. This session explores the ways in which lifestyle and botanical therapies can affect the ability of the cells to repair damage from genetic mutations and oxidative damage, and how this governs overall health and longevity. Take a deeper look at the TCM perspective on Essence and compare it with the modern genetic theory of aging. Discuss autophagy's role in promoting longevity and analyze xenohormesis.

Speaker: Jason Miller, DACM, LAc
Jason Miller practices botanical and nutritional medicine, acupuncture, and Asian bodywork at his clinic, Jade Mountain Medicine in Ashland, Oregon. He received his master's degree in acupuncture and Oriental medicine from the Oregon College of Oriental Medicine in 2005 and completed a postgraduate internship at the "House of Celebrity Doctors" in Nanjing, China. He earned his Doctorate of Acupuncture and Chinese Medicine (DACM) from the Pacific College of Oriental Medicine in 2018. His approach bridges the frameworks of traditional and modern medicine in the management of chronic disease. More about Jason Miller.


---
Naturopathic Physicians
Approved for up to 12 general hours of which 3 can be pharmacy; each session is 2 hours credit (OBNM)
Nurses
Approval for Sessions 1 – 5:

Approved for up to 7.5 nursing contact hours; each session is 1.5 contact hours (NCNA)*
CE is

not

approved for Jason Miller's session
* This activity has been approved by the North Carolina Nurses Association (NCNA). North Carolina Nurses Association is accredited as an approver of nursing continuing professional development by the American Nurses Credentialing Center's Commission on Accreditation.
---



Questions? Contact us and we're happy to help!