Friday May 29, 2020
(At Blue Ridge Assembly unless otherwise noted. Open only to registered symposium participants.)
---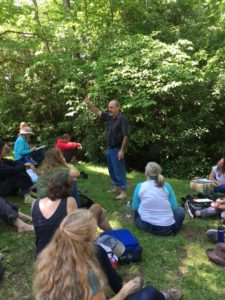 10:00 AM – 3:00 PM
Ethnobotanical and Native Plant Field Study
David Winston, RH (AHG)
Cost $69
Join this perennial outdoor favorite for a day with David Winston. Examine the unique flora of the southeastern mountains and hear stories of creation and the origin of medicine. Discover how the medicine, food and useful materials provided by the plants have nurtured the Native peoples and Appalachian settlers for millennia. Explore the healing power of the herbs, the water, the earth, the trees, and how you can make them a part of your life.
This event fills every year, so please register early! Limit 35 participants.
CE: Applications submitted for 5 hours continuing education credit for acupuncturists and 4.5 hours credit for nurses*. Sorry, but Oregon (OBNM) does not grant ND CME credits for herb walks or field studies.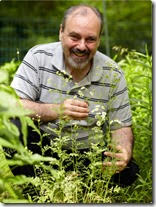 David Winston RH (AHG) is an herbalist and ethnobotanist with 41 years of training in Cherokee, Chinese and Western herbal traditions. He has had a clinical practice for over 30 years and is an herbal consultant to physicians throughout the USA and Canada. President of Herbalist & Alchemist, Inc. an herbal manufacturing company, he is also founder/director of David Winston's Center for Herbal Studies, which features his highly respected two-year Clinical Herbalist Training Program. He is an internationally known lecturer and teaches frequently at medical schools and herb conferences.
David is the co-author of Winston & Kuhn's Herbal Therapies and Supplements: A Scientific and Traditional Approach, 2nd ed., Wolters Kluwer, 2008, and Adaptogens: Herbs for Strength, Stamina, and Stress Relief, Healing Arts, 2007, he is the author of Saw Palmetto for Men & Women, Storey, 1999, Herbal Therapeutics, Specific Indications For Herbs and Herbal Formulas, (new edition, 2009), and a contributing author to American Herbalism, published in 1992 by Crossings Press. In addition, he is a founding/professional member of the American Herbalist Guild, and he has served four terms on the Board of Directors.
---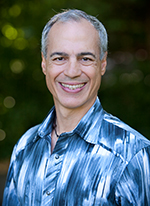 1:00 PM – 5:15 PM
Pre-conference Intensive: Mitigating the Effects of Glyphosate and other Environmental Toxins for the Prevention of Chronic Disease and Health Optimization – the Application of Hormesis and Herbal Medicine
Donald Yance, RH (AHG)
Cost $89
Protecting our health in the face of widespread use of environmental chemicals is becoming one of the most pressing challenges of our times, and the herbicide glyphosate is one of the leading environmental toxins in our world today.
We discuss the chemical makeup of glyphosate, how it can damage our health, what the relationship is of the glyphosate in our food supply to health conditions (including gluten intolerance/sensitivity, antibiotic resistance and disruption of endocrine balance). Research has shown that endocrine disruption can lead to a whole host of health problems including obesity, cancer, infertility and depression.
We discuss in detail the concept of hormesis, and how low-level exposure to stressors, including toxic substances, can make us healthier and stronger. We explore the ways to mitigate, detoxify and protect our health using herbal and nutritional medicine, and how these medicines can work in concert with hormesis to expand the dynamic range of health stability, building the four life requirements of energy, protection, adaptation and reproduction.
CE: Applications submitted for 4 hours of continuing education credits for naturopathic physicians, acupuncturists and nurses*.
Donald Yance, RH (AHG) is a clinical master herbalist and certified nutritionist who is internationally recognized for his comprehensive knowledge and understanding of the healing properties of plants and nutrition. Donnie conducts his clinical practice at  the Mederi Foundation's Centre for Natural Healing in Ashland, Oregon, utilizing his unique integrative model known as the Eclectic Triphasic Medical System, which he evolved over more than twenty years of successful patient care.
He is the founder and president of the Mederi Foundation, a not-for-profit organization for professional education and clinical research in integrative medicine. He is also the president and formulator of Natura Health Products, a line of advanced botanical and nutritional products for health care practitioners. Donnie is an avid researcher and lectures nationally on his pioneering work in the field of botanical and nutritional medicine. He is the author of Herbal Medicine, Healing and Cancer and Adaptogens in Medical Herbalism.
---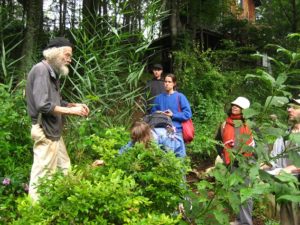 1:00 PM – 5:0 PM
Ecology, Propagation and Cultivation of Native and Oriental Medicinal Herbs at Mountain Gardens
Joe Hollis
Cost $59
Mountain Gardens is a forty-year-old botanical garden of useful plants incorporating the largest collection of medicinal herbs in the eastern US. We are located adjacent to National Forest at the base of the highest mountains in the east, and most of the important native medicinals are growing here naturally (the rest have become established). In addition many herbs have been introduced from North America, Europe and, especially, East Asia.
This workshop offers a leisurely plant walk with detailed information on the ecology, propagation and cultivation of the herbs.  We also look at the nursery, apothecary and seed bank.  For more information and pictures, please visit our website www.mountaingardensherbs.com and we encourage you to view some of the many videos on YouTube (search Mountain Gardens or Joe Hollis).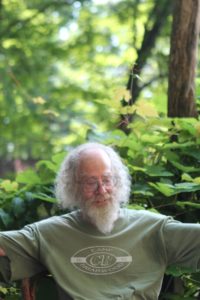 Joe Hollis has lectured, consulted and taught workshops in medicinal herb identification, cultivation and processing at Mountain Gardens and at various colleges and conferences in North Carolina since 1980. He also teaches 5-8 apprentices annually. The gardens are regularly toured by university and herb school classes. Mountain Gardens sells its seeds, plants and preparations at herb fairs and medicinal herb conferences, and via the internet at their website.
Joe has been an instructor at Daoist Traditions (Asheville, NC) since the school's founding (2006) teaching classes in Medical Botany and Herbal Preparations, as well as supervising the student herb garden. In June 2020 he will again be travelling to China to collect important medicinal species not presently available in the US.
CE: Applications submitted for 4 hours continuing education credits for nurses*, naturopathic physicians and acupuncturists.
*This activity has been submitted to North Carolina Nurses Association for approval to award contact hours. North Carolina Nurses Association is accredited as an approver of nursing continuing professional development by the American Nurses Credentialing Center's Commission on Accreditation.
---
Join us for this once-a-year (since 1993!) gathering to celebrate the healing plants and learn new field and clinical information.
Questions? Contact us and we'll be happy to help!