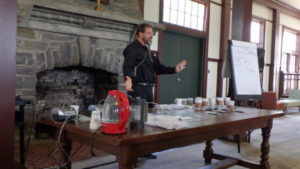 Application approved for CME (continuing medical education) for naturopathic physicians (ND) for the Virtual Medicines from the Earth Herb Symposium, May 29 – June 1, 2020. See general event info here.
Please indicate the type of CE on your form when you register.
CME Details:
Maximum 21.5 CME hours of which 9 hours can be pharmacy. This includes the Friday pre-conference intensive. Application approved by OBNM. Note: Oregon does not give credit for the field study or herb walks.
See the detailed credit approval chart below.
Maximum CME available: 21.5 general of which 9 can be pharmacy
(This list is subject to minor changes)
General Hours
Pharm Hours
Donald Yance, RH (AHG)
Intensive: Miitigating the Effects of Glyphosate and other Environmental Toxins
3.0
1.0
Mary Bove, ND, Katie Stage, ND and David Winston, RH (AHG)
Panel: Clinical Approaches to Immune-Centered Illness
1.5
Chanchal Cabrera, RH (AHG)
Keynote: Nature, Spirit, Medicine—Using Biophilia Practice and Shinrin Yoku (Forest Bathing) for Personal and Planetary Healing
1.5
Jason Miller, DACM, Kenneth Proefrock, ND and Mary Rondeau, ND
Panel: Botanicals and other Therapies for Improving Mechanisms of Cellular Repair to Increase Lifespan
1.5
Katie Stage, ND, RH(AHG)
In the Zone: Research Considerations for Microdosing Entheogens
1.5
Joe Hollis
Ecology, Propagation and Cultivation of Native and Oriental Medicinal Herbs at Mountain Gardens
(Pre-recorded with live question and answer session afterwards)
2.0
Christopher Hobbs, PhD, David Crow, LAc and Teresa Boardwine, RH (AHG)
Closing Panel: New Discoveries in Botanical Medicine
1.0
Teresa Boardwine, RH (AHG)
Herbal Tea Apothecary: Teas for Every Body System, Energetic Tissue State and Constitution
1.5
Oxymels and Vinegar Infusions
1.5
Mary Bove, ND)
Women, Autoimmunity and Estrogen Metabolism
1.5
Cultivating Skin Microbiome Radiance with Botanicals
1.5
Addressing Immune Health through the Ages: Infants to Seniors
1.5
Chanchal Cabrera, RH (AHG)
Chronic Skin Conditions: Case Review of Seborrheic Dermatitis
1.5
Rubefacient and Vulnerary Botanicals for a Complicated Case
1.0
.5
David Crow, LAc
Principles of Combining Herbs and Essential Oils: Musculoskeletal Conditions (Arthritic Pain, Fibromyalgia, Injuries, Muscle Spasm)
1.5
Principles of Combining Herbs and Essential Oils: Relaxing the Nervous System (Stress, Anxiety, Insomnia, Tension Headaches and Chronic Adrenal Overstimulation)
1.5
Principles of Combining Herbs and Essential Oils: Strengthening and Energizing the Nervous System (Antidepressant Effects, Protection against Neurodegenerative Conditions, Supporting Cognitive Function and Enhancing Concentration)
1.5
Christopher Hobbs, PhD, LAc
Mushroom Spirit Medicine
1.5
Essential Oil Therapeutics: Internal Uses for Clinic and Home
1.5
Diabetes, Obesity and Related Diseases
1.0
.5
Robin McGee
Sweet Medicine: Herbal-infused Honeys and Herbal Syrups (Demonstration)
1.5
Jason Miller, DACM, LAc
The Yin and Yang of Hormone Balance: A Botanical and Nutritional Medicine Approach to Hormone Deficiency and Endocrine Disruption
1.0
.5
Prostate Cancer: A Comprehensive and Collaborative Approach
.5
1.0
Demystifying Qi: A Reverse-Engineering Approach to Understanding the Concept of Qi in Botanical Medicine
1.5
Kenneth Proefrock, ND
Revisiting the Many Faces of Testosterone: How Botanicals Play a Significant Regulatory Role
1.5
Neuroplasticity and the NMDA receptor: Botanical and Nutritional Influences on Neurological Remodeling
.5
1.0
Lymphagogues and Alteratives: Lessons in Herbal Immunology
1.5
Mary Rondeau, ND, RH(AHG)
Anxiety: More than an Over Aroused State
.5
1.0
Keeping Kids Healthy
1.5
Vickie Shufer
Wild Food "Farmacy" in your Backyard
1.5
Katie Stage, ND
Taming the Dragon: Botanical Approaches for Inflammatory Bowel Disease (IBD)
1.0
.5
Botanical Strategies for Pelvic Pain and Endometriosis
.5
1.0
Marc Williams, MA
The Ethnobotany of the African Diaspora
1.5
Jennifer Williams, DACM, LAc
Substance Addiction and Recovery: Herbal Strategies for Emotional and Physical Pain
1.5
Topical Botanical Therapies to Ease Substance Withdrawal
1.5
David Winston, RH (AHG)
Restorative and Nutritive Tonics
1.5
Medicinal Mushrooms in Clinical Practice
1.5
Donald Yance, RH (AHG)
Targeting IL-1 in Immunotherapy for Cancer and other Diseases using Botanical Medicine
.5
1.0
CE questions? Contact us and we'll be happy to help!
Online registration now closed. Please contact us if you'd like to attend this virtual event.