Welcome to the Southwest Conference on Botanical Medicine virtual conference with video streaming starting March 26, 2021.
---
Attendee Page Directory

---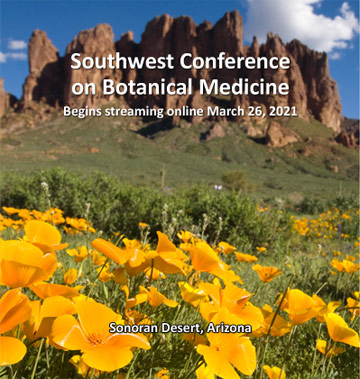 Your registration includes:
---
---
---
Don't forget to visit our sponsor and educational partners to see their websites, social media, and special discounts just for attendees!
---
Recorded Videos Streaming Online
Recordings of all conference sessions are below. Click on any link below and the video will load on Vimeo. The passcode for all videos has been sent to registrants by email.
Lise Alschuler, ND


1. Pre-Conference Intensive: Managing Pharmaceutical Side Effects and Discontinuance with Botanicals and other Natural Therapies (Available only to intensive registrants — use the password that was used to enter the live intensive room. This password was emailed to all intensive registrants on 3/25.)
2. Diverticulitis: Integrative Management
3. Herbal Impacts on Drug Metabolism
4. Panel: Naturopathic Approaches to Weight Management and Obesity Prevention
Paul Bergner, CN
1. Topical Antifungal Therapeutics with Western Herbs
2. The Antiviral Materia Medica
3. Medicinal Uses of the Berberine-Containing Plants
Deborah Frances, ND
1. Herbal Allies for Nourishing the Emotional Heart
Lori Harger, PMHNP
1. Opiate Use Disorder and its Treatment from a Body-Mind-Spirit Perspective – Part A
2. Opiate Use Disorder and its Treatment from a Body-Mind-Spirit Perspective – Part B
Tori Hudson, ND
1. Mushroom Medicine in Women's Health
Feather Jones, RH (AHG)
1. Hormonal Imbalances and Gynecological Patterns
Marianne Marchese, ND
1. Panel: Naturopathic Approaches to Weight Management and Obesity Prevention
Heath McAllister, ND, RH (AHG)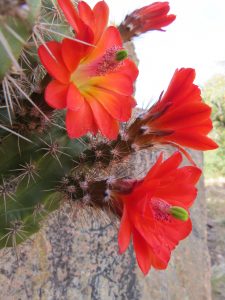 1. Integrative and Botanical Interventions for Inflammatory Bowel Diseases and Associated Arthritis
2. Understanding the Therapeutic Importance of Saponins and Saponin Containing Herbs
Kenneth Proefrock, NMD
1. Naturopathic Considerations for Musculoskeletal Pain: Alternatives to Narcotics and Anti-inflammatories
2. Getting into the Brain: Liposome Based Strategies for Neurological Conditions
3. COVID 19: Acute and Chronic Considerations in Naturopathic Patient Management
Arianna Rodriguez, ND
1. Making Rash Decisions: Naturopathic Therapies for Eczema and Psoriasis (presented with Katie Stage, ND)
2. Natural Approaches to Skin Conditions Primarily Affecting the Face (presented with Katie Stage, ND)
Mary Rondeau, ND, RH (AHG)
1. Cannabidiol (CBD) and Mental Health
2. Top Ten Botanical Medicines for Managing Mental Health Disorders

JoAnn Sanchez, MS
1. Growing a Cure: Garden Lecture
John Slattery
1. Medicinal Herbs in the Kitchen (Demonstration)
Katie Stage, ND, RH (AHG)
1. Making Rash Decisions: Naturopathic Therapies for Eczema and Psoriasis (presented with Arianna Rodriquez, ND)
2. Natural Approaches to Skin Conditions Primarily Affecting the Face (presented with Arianna Rodriguez, ND)
3. Panel: Naturopathic Approaches to Weight Management and Obesity Prevention
Jillian Stansbury, ND
1. In-Depth Look at Centella Asiatica
2. Phytosterols – A Review and Tutorial
---
Digital Book and Lecture Notes
The digital book is ready and now available for all participants to view or download:
To download individual PowerPoints and articles or the whole book of notes,

 open this web page and enter the access code SW2021 (Enter a second time if it doesn't work the first time)

Individual PowerPoints are formatted two slides to a page for easier viewing.

The "Select All Notes" link at the top of the list will download the whole book (PowerPoints six slides to a page). This is a large file and will take some time to download.

If the "All Notes" link does not work or times out, alternate access is

 

available here.
---
Continuing Education (CE) Information
If you haven't already, please sign up in advance for the CE program ($25 additional fee). Add it to your registration record by visiting the conference registration page. You will need your registration number from your original receipt.
Credits are issued for full or partial attendance. Please sign up for CE when you submit your registration form ($25 additional fee for all CE). We offer CE, CME, CNE, PDA and CEUs through the approvals listed below.
To request a CE certificate: Please download the form(s) for your license(s) and follow the directions on the form to complete.
Deadlines to submit CE forms: Forms for NCCAOM / live events for CA Acupuncture Board: Due April 27. Forms for AAFP / OBNM / SCNM: Due May 28.
Be sure to fill out your CE form as you view the videos since it requires filling in the CE catalog number and other information from the videos.
Note for WA NDs: The Conference is approved by AAFP, SCNM and OBNM meaning you can claim Category 1 or Category 2 CE for the sessions you attend. When filling out the form, please use the SCNM column for your Category 1 CE and use the AAFP column for your Category 2 CE.
---
Continuing Education Approvals
AMERICAN ACADEMY OF FAMILY PHYSICIANS (AAFP):
Approved for up to 40 hours Prescribed Credit* for DO, MD, RN, FNP, California NDs and others. AAFP approval details
The AAFP has reviewed 2021 Southwest Conference on Botanical Medicine, and deemed it acceptable for AAFP credit. Term of approval is from 03/26/2021 to 03/24/2022. Physicians should claim only the credit commensurate with the extent of their participation in the activity.

*AMA/AAFP Equivalency:
AAFP Prescribed Credit is accepted by the American Medical Association as equivalent to AMA PRA Category 1 credit(s)™ toward the AMA Physician's Recognition Award.
NATUROPATHIC PHYSICIANS:
Approved for all NDs (including California CNDA) who accept AAFP credits described above
Approved: Oregon (OBNM): up to 40 general hours of which 13 can be pharmacy

Approved

: Arizona (SCNM CE Board): up to 40 general hours of which 13 can be pharmacy, or 11.5 pharmacy and 3 opioid credits. Credit for in-person field studies and herb walks approved for additional hours. (Arizona NDs only).
ACUPUNCTURISTS:
Approved: NCCAOM: 19 PDA points (hours)
Note: NCCAOM gives credit for only those videos viewed live from March 26 – 28. We have set up a special schedule for acupuncturists needing NCCAOM credits, which includes two presentations on Friday morning, March 26 (not listed in the regular schedule for other participants).
Approved: California Acupuncture Board: Up to 19 continuing education hours for live presentations, and up to 40 continuing education hours for distance learning. Lectures can only be counted for live or distance learning, not both. CAB provider #1552.
NURSING:
Approved by the AAFP (see above) for up to 40 hours CE credit. (AAFP is recognized by the ANCC as a provider of nursing continuing education for RNs, FNPs and other nursing professionals)
Nursing approval details
A certificate of attendance is available to any participant who requests it.
Questions about continuing education? Please email us and we'll be happy to help.
---
Cancellations: Before March 9, registration fees will be refunded minus $50 processing per registrant. No refunds can be given after 3/9/21. Refund requests should be emailed to the conference office.
---
Sponsors and Educational Partners
We are thankful for our sponsors and educational partners who help make these conferences possible. Please browse the sponsor directory to shop and learn more about these trusted herbal community members.
Sponsor Directory (listed alphabetically):
---

Vitanica
Website • Facebook • Instagram

Vitanica was created by Dr. Tori Hudson over 26 years ago to address the intricate needs in women's health. The supplements uphold her strict quality standards as a clinician. The commitment to quality includes optimal dosages, superior choice nutrient sources and clinically scrutinized products for maximal therapeutic benefit and premium grade organic or wildcrafted herbs. Ingredients are selected based on purity, bioactivity, and therapeutic benefit.
Special Offer! 10% off orders for the week following the conference by calling Vitanica's office (800-572-4712) or emailing orders@vitanica.com. Simply mention SW Botanical Conference Spring 2021 to receive the discount on any direct order. Discount available starting through April 2nd.
---

Herb Pharm
Website • Facebook • Instagram • Pinterest • LinkedIn • Twitter

Our mission is to create the highest quality herbal extracts possible. We're committed to educating people on how to practice safe, effective herbalism. We believe that our work can inspire more love for plants and respect for Nature and it will improve the health, happiness and harmony of the Earth and all its people. Supporting your health since 1979.
Special Offer! Use discount code SWCBM21 at checkout for 20% off order
---

American Holistic Nurses Association
Website • Facebook • LinkedIn • Twitter
The AHNA is a specialty nursing association serving over 5,500 nurses and holistic healthcare professionals in the USA and internationally. Our mission is to illuminate holism in nursing practice, community, advocacy, research, and education. Our vision is that Every Nurse Is a Holistic Nurse.
---

American Botanical Council
Website • Facebook • LinkedIn • Twitter
The American Botanical Council provides education using science-based and traditional information to promote responsible use of herbal medicine — serving the public, researchers, educators, healthcare professionals, industry and media.
Special offer! 20% off all memberships for anyone attending this conference. Select any membership option to access your discount. (More details in our ad on p. 290 of the digital conference book!)
---

Frontier Co-Op
Website • Facebook • Instagram • Twitter • Pinterest
Frontier Co-op has been a member-owned cooperative supporting natural living since 1976 — owned by stores and other organizations that buy and sell our products. We care deeply about our co-op's effect on the world, and we're sincerely committed to helping the communities where our products are produced. Your purchases benefit struggling families and communities around the world as we do business with the goal of treating everyone fairly and having a positive impact in the world.
Special Offer! Use discount code SWCONF20 at checkout for 20% off entire order.
---

Herbalist & Alchemist
Website • Facebook • Instagram • Twitter • LinkedIn
Founded over 35 years ago by registered herbalist, David Winston, Herbalist & Alchemist manufactures practitioner-quality herbal extracts and exclusive formulas from plants. Their mission is to develop, manufacture, and distribute herbal supplements that are of the highest quality, manufactured from plant material that originates in harmony with the environment: organically grown, ethically wild-crafted or sustainably harvested.
Special offer! Practitioners and AHG registerd Herbalists are eligible for Wholesale Accounts. Apply for Wholesale Account at Herbalist & Alchemist
(More details in our ad on p. 293 of the digital conference book!)
---

Genova Diagnostics
Website • Facebook • Instagram • Twitter • LinkedIn • YouTube
Genova Diagnostics is a leading clinical laboratory applying systems-based testing approaches to the diagnosis, treatment and prevention of complex chronic disease. Genova specializes in clinical laboratory services with actionable information.
---

Standard Process
Website • Facebook • Instagram • Twitter • LinkedIn • YouTube
Since 1929, Standard Process ® has been a visionary leader in whole food nutrient solutions. The company creates quality nutritional supplements based on the whole food philosophy of its founder, Dr. Royal Lee. Headquartered in Palmyra, Wisconsin, Standard Process offers nutritional supplements, Veterinary Formulas™, and is the exclusive U.S. Distributor of MediHerb ® herbal supplements.
---

Golden Needle Acupuncture, Herbal & Medical Supply
Website • Facebook • Instagram • Twitter • LinkedIn
Golden Needle Acupuncture, Herbal & Medical Supply is your one stop shop for Chinese/western herbs, nutritional supplements, homeopathics, medical supplies, topicals and so much more. With over 20,000 items from more than 300 brands, we can cover all your needs. Our goal has always been to provide practitioners and the public with the highest quality products available and our staff is friendly, knowledgeable and dedicated to providing a personal touch to your experience.
Special offer! 20% off next order for anyone attending this conference.  (More details in our ad on p. 296 of the digital conference book!)
---

United Plant Savers
Website • Facebook • Instagram • Twitter

United Plant Savers' mission is to protect native medicinal plants of the United States and Canada and their native habitat while ensuring an abundant renewable supply of medicinal plants for generations to come. Increased usage of botanical medicine, along with habitat destruction, are causing an ever-increasing shortage of wild plant resources, including some of our most treasured medicinal species. This work involves research, education, and conservation of native medicinal plants and their habitats. We hope that you will join us in this worthwhile and important mission. UpS is a 501 (C)3 non-profit organization.
---

Wise Woman Herbals
Website • Facebook • Instagram • Twitter • LinkedIn
Since 1989, tradition and consistency have provided the foundation for Wise Woman Herbals® whole herb products. You can rely on our commitment to honoring tradition and embracing science in manufacturing organic, non-GMO, all-natural botanical supplements that support health and wellness for living a pure life. Everything we do begins with nature. Our mission is to provide pure natural remedies to those seeking more balance in their lives, doing so in a way that honors our planet and the legacy of the wise women who came before us.
Special Offer! Annual Spring Sale the entire month of April: 20% off any order of $100.00 or more. No discount code needed.
Freebies for Attendees: Wise Woman Herbals has graciously provided the following download materials for free for attendees:
---

Wishgarden Herbs
Website • Facebook • Instagram • Twitter • LinkedIn
WishGarden Herbs is an independent, family-run business that has been providing natural herbal remedies to communities since 1979. We raise the bar on efficacy by providing a wide variety of dependable in-the-moment symptom-soothers, whole herb remedies for all seasons and all ages.
Special Offer! Use discount code WISH25 at check-out for 25% off your order!
---

Lauricidin
Website • Facebook • Instagram • Twitter 
Med-Chem Labs is the maker of the #1 selling Lauricidin® Monolaurin Supplement. Recommended worldwide by health professionals and wellness experts, Lauricidin® is known for its unique health-promoting properties and a wide spectrum of uses. Get the Power of Lauricidin® in our new topical skin care and daily use products at our website.
Discount Information: We offer discount pricing and education programs for Health Professionals who sign up.
---

Andrew Weil Center for Integrative Medicine
Website • Facebook • Instagram • Twitter • Pinterest • LinkedIn
The Andrew Weil Center for Integrative Medicine is leading the transformation of health care by training a new generation of health professionals and by empowering individuals and communities to optimize health and wellbeing through evidence-based, sustainable, integrative approaches.
Special offer! Free online course: Environmental Health: An Integrative Approach.  (More details in our ad on p. 301 of the digital conference book!)
---

Herbal Vitality
Contact or Place an Order
Alleviating Human Suffering, Drop by Drop™
At Herbal Vitality we are dedicated to offering a wide selection of effective and vibrant products. Our practitioner-grade liquid extracts and glycerites are cGMP compliant and made using quality raw materials, organic alcohol and glycerin. Blending Science, Art, and Spirit for the past 19 years.
---

Pukka Herbs
Website • Facebook • Instagram • Twitter • YouTube
Pukka Herbs is an organic, herbal wellness company founded in 2001 by ethical entrepreneur, Tim Westwell, and practicing herbalist, Sebastian Pole. They grew Pukka from a simple idea: to connect people with the incredible wonders of organic herbs and take them on a journey to a healthier, happier life. All of our tea and supplement blends are created by our staff of herbalists, using ethically sourced, organic and practitioner grade herbs. With sustainability at the heart of Pukka, we are also a certified b-corp, Fair for Life certified, Fair Wild Certified, and a proud member of 1% for the Planet. Finally, we partner with accredited research institutions to continue furthering the expansion of herbalism in the world.
---

Priority One Vitamins
Website • Facebook • Instagram • Twitter • Pinterest • YouTube
Meeting Room — Available All Weekend: https://us02web.zoom.us/j/3024708962?pwd=Z2ZSTGVHVGpSSkdHWFBiaDVnbzZkQT09
We are a privately-held and family-operated Pacific Northwest company, serving you since 1988. We have 3 generations of family on staff! Our formulas are professional grade, GMO-free and feature no artificial additives. We manufacture these high-potency nutritional supplements for bio-availability and optimal function for your patients. All of our products are manufactured in a cGMP (Good Manufacturing Practices) certified facility with a 100% FDA inspection record and is certified by the State of Washington.
Special Offer! Use discount code 15off for 15% off all purchases. If you register with Priority One this weekend, you will receive a $25 gift card, and an entry to win a $485 Immunity Gift Basket with Dr. Marchese's Formulas or $150 gift certificate.
---

Host Defense Mushrooms
Website • Facebook • Instagram • Pinterest • YouTube
NEW! Join Host Defense online on Zoom to answer your questions on Saturday 3/27 at 10:30 AM Pacific / Arizona time. To join visit: https://us05web.zoom.us/j/2181420224?pwd=VjBldms3S05HcmtCdEZoV2F0Sm5LUT09  (passcode for this session only is SW)
We are a family-owned company specializing in functional food mushroom mycelium supplements to support natural immunity and whole-body wellness. With over 40 years' experience, we are one of the best-documented and longest-standing certified organic mushroom companies in the U.S. Every mushroom ingredient in every Host Defense product is grown at our own farm near the Olympic Rainforest in Washington State. Our global mission includes collaborating with doctors to help support immunity and health, educating communities about growing mushrooms for food, investing in integrated mushroom technologies to break down or neutralize toxic wastes, pioneering strategies to save the honey bee using fungi, and protecting the natural environment and all its inhabitants.
---

Biome Research
Website
Please complete this form for a free sample box!
Biome Research is an innovative probiotic technology company focused on improving survivability of beneficial bacteria, both before and after introduction to the human GI tract. The first step, crucial to maintaining the survivability of bacteria, is to focus on protected, cold-shipping. Next, we surround each and every fragile, freeze-dried cell to protect from stomach acid by using a unique, seaweed mucopolysaccharide. And last, unique to us, we address the rehydration of the cells during reanimation from a freeze-dried state utilizing a proprietary electrolyte blend.
Special offer! Introductory Program for a limited time only. Register to join our Early Adopter Program for introductory pricing.  (More details in our ad on p. 305 of the digital conference book)
---

Chelsea Green Publishing is providing conference attendees with a discount on all their book titles!
Website

Use the Discount Code PWEB35 at check-out. It cannot be combined with any other offers (sale priced books or multiple discount codes, for example). Sales and special offers are for online orders at ChelseaGreen.com only (not available for in-store purchase). Free Shipping for orders over $100 is applied after the discount is applied (US orders only).
---
Suggested Books for Further Herbal Learning
---
We look forward to enjoying a weekend of herbal medicine education with you!
Herbal Educational Services
Conference Registration
Contact us
541-482-3016