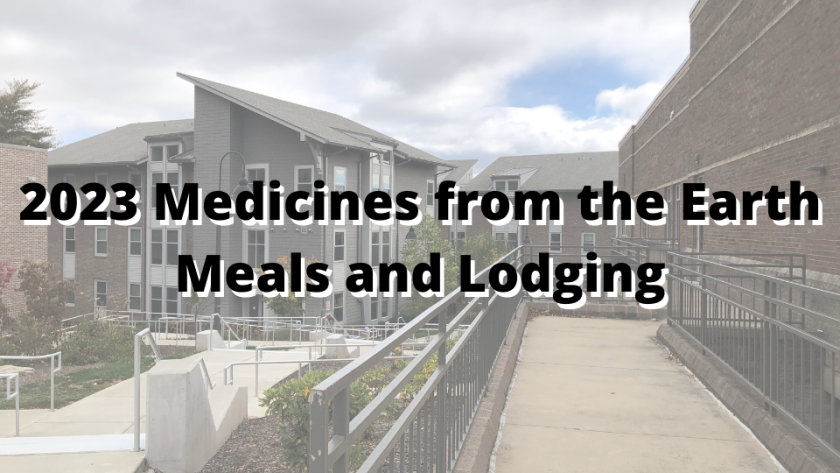 Medicines from the Earth 2023 Lodging and Meals Registration
June 2 – 4, 2023: Asheville, North Carolina
Note: This registration form is solely for lodging and meals. Registration to the event is required and can be purchased here.
The lodging is filling up, please make your reservation today! Cancellation with full refund possible by May 22. No refunds for lodging possible after that.
Available Meals and Lodging Packages:
Student Apartment Lodging at UNCA is now fully booked. Email us if you would like to be on a waiting list for a room in an apartment (private single bedrooms with a shared bath and a common kitchen and living room area).
NEW! Overflow lodging available in a dormitory setting in nearby Founders Hall. Each dormitory space is two single-occupancy rooms (same gender in each room) connected by a shared bathroom. Linens are provided.
Basic Package in Founders Hall ($341): 2 nights lodging (Friday and Saturday) and 6 meals (Friday dinner – Sunday lunch)
Early Arrival Package ($485): 3 nights lodging (Thursday, Friday and Saturday) and 8 meals (Friday breakfast – Sunday lunch)

NOTE: As of 4/1/23, all Early Arrival Packages will be housed in Founders Hall.

Commuter Meal Package (for those lodging off-site – $109): Friday dinner, Saturday lunch and dinner, Sunday lunch
Friday Intensive Lunch for Commuters ($24): Add on lunch to have on-site for your intensive
Sunday Night Lodging ($94): Add Sunday evening lodging to your reservation
Medicines from the Earth Herb Symposium


June 2, 2023 - June 4, 2023




6:30 pm - 5:30 pm
We're sorry, but all ticket sales have ended.