Past Conference: Southwest Conference on Botanical Medicine 2021
Now Available for Distance Learning: Audio and video recordings for 2021. Purchase recordings, save your receipt, keep a record of CME credits earned as described below. It's as easy as that!
Naturopathic physicians: Please use this certificate to record your CME
Nursing professionals: Please use this eval form to receive your CNE certificate
Medical osteopathic doctors, osteopathic physicians and other professionals who accept AAFP CME as described below: Please use this certificate (coming soon) to record your CME
IMPORTANT: If you attended the Southwest Conference in March, please use the CE links on the private attendee page to report your CE and receive your certificate.
---
Distance Learning CME Approval: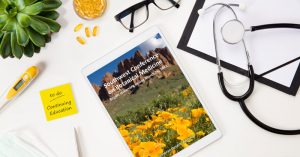 The American Academy of Family Physicians (AAFP) has approved the online 2021 Southwest Conference on Botanical Medicine for up to 40 hours of distance-learning Prescribed Credit*.
Approval Statement: The AAFP has reviewed the 2021 Southwest Conference on Botanical Medicine and deemed it acceptable for AAFP credit. Term of approval is from 03/26/2021 to 03/24/2022. Physicians should claim only the credit commensurate with the extent of their participation in the activity.
AMA/AAFP Equivalency: AAFP Prescribed Credit is accepted by the American Medical Association as equivalent to AMA PRA Category 1 credit(s)™ toward the AMA Physician's Recognition Award.
Nursing CE Note: AAFP is recognized by the ANCC (American Nursing Credentialing Center) as a provider of nursing continuing education for RNs, FNPs, and other nursing professionals.
---
See chart below for more information on credits available.
Order full set of audio recordings for SW 2021 here.
Order full set of video recordings for SW 2021 here.
Prescribed Credit
Lise Alschuler, ND, Katie Stage, ND and Marianne Marchese, ND
Panel Discussion: Naturopathic Approaches to Weight Management and Obesity Prevention

1.5
Lise Alschuler, ND
Pre-Conference Intensive: Managing Pharmaceutical Side Effects and Discontinuance with Botanicals and other Natural Therapies ($120)
4.0
Herbal Impacts on Drug Metabolism
1.5
Diverticulitis: Integrative Management
1.5
Paul Bergner, CN
Topical Antifungal Therapeutics with Western Herbs
1.5
The Antiviral Materia Medica
1.5
Medicinal Uses of the Berberine-Containing Plants
1.5
Deborah Frances, ND
Herbal Allies for Nourishing the Emotional Heart
1.5
Lori Harger, PMHNP
Opiate Use Disorder and its Treatment from a Body-Mind-Spirit Perspective - Part A
1.5
Opiate Use Disorder and its Treatment from a Body-Mind-Spirit Perspective - Part B
1.5
Tori Hudson, ND
Mushroom Medicine in Women's Health
1.5
Feather Jones, RH (AHG)
Hormonal Imbalances and Gynecological Patterns
1.5
Heath McAllister, ND
Integrative and Botanical Interventions for Inflammatory Bowel Diseases and Associated Arthritis
1.5
Understanding the Therapeutic Importance of Saponins and Saponin Containing Herbs
1.5
Kenneth Proefrock, NMD
Naturopathic Considerations for Musculoskeletal Pain, Alternatives to Narcotics and Anti-inflammatories
1.5
Getting into the Brain: Liposome Based Strategies for Neurological Conditions
1.5
Covid 19, Acute and Chronic Considerations in Naturopathic Patient Management
1.5
Mary Rondeau, ND, RH (AHG)
Cannabidiol (CBD) and Mental Health
1.5
Top Ten Botanical Medicines for Managing Mental Health Disorders
1.5
JoAnn Sanchez, MS
Garden Presentation: Growing a Cure
1.5
John Slattery, Herbalist
Medicinal Herbs in the Kitchen (Demonstration Lecture)
1.5
Katie Stage, ND & Arianna Rodriguez, ND
Naturopathic Therapies for Eczema and Psoriasis
1.5
About Face: Natural Approaches to Skin Conditions Primarily Affecting the Face
1.5
Jillian Stansbury, ND
In-Depth Look at Centella Asiatica
1.5
Phytosterols - A Review and Tutorial
1.5
---
You can learn more about the CME audio recordings in our audio & digital book library online, and learn more about the video recordings in our video library.
Questions about continuing education? Please email us and we'll be happy to help.
---