The American Academy of Family Physicians (AAFP) has approved the online 2022 Southwest Conference on Botanical Medicine for up to 34 hours of distance-learning Prescribed Credit*. This approval applies to CME for: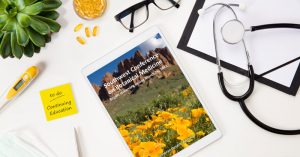 Medical Doctors (MD)

Osteopathic Doctors (DO)

Nurses (RN)

Family Nurse Practitioners (FNP)

California Naturopathic Physicians (ND)




and others
Approval Statement: The AAFP has reviewed the 2022 Southwest Conference on Botanical Medicine and deemed it acceptable for AAFP credit. Term of approval is from 03/25/2022 to 03/25/2023. Physicians should claim only the credit commensurate with the extent of their participation in the activity.
AMA/AAFP Equivalency:
AAFP Prescribed Credit is accepted by the American Medical Association as equivalent to AMA PRA Category 1 credit(s)™ toward the AMA Physician's Recognition Award.
NURSING:
AAFP is recognized by the ANCC (American Nursing Credentialing Center) as a provider of nursing continuing education for RNs, FNPs, and other nursing professionals.
OTHER PROFESSIONALS:
Additionally, AAFP has agreements with the following healthcare organizations, who all accept AAFP's Prescribed credit:
American Academy of Physician Assistants (AAPA)

National Commission on Certification of Physician Assistants (NCCPA)

American Nurses Credentialing Center (ANCC)

American Academy of Nurse Practitioners Certification Board (AANPCB)

American Association of Medical Assistants (AAMA)

American Board of Family Medicine (ABFM)

American Board of Emergency Medicine (ABEM)

American Board of Preventative Medicine (ABPM)

American Board of Urology (ABU)
LIST OF PRESENTATIONS WITH CREDITS:
The table below lists all lectures for which AAFP credit has been approved for distance learning.
Prescribed Credit
CE Catalog Code
Jillian Stansbury ND, Jason Miller DACM, LAc and Mary Rondeau, ND
Panel: Botanical and Other Naturopathic Therapies for Managing Multiple Drug Resistant Infections

1.5
22SW21
Lise Alschuler, ND, Kenneth Proefrock, NMD and Katie Stage, ND, RH (AHG)
Panel: Inspiring a Path Toward Wellness for those in our Care
1.5
22SW22
Lise Alschuler, ND
Botanicals for Frailty in Elders
1.5
22SW01
Preserving GI Health During Cancer Care
1.5
22SW09
Paul Bergner, Medical Herbalist
Antianxiety Herbs and Mechanisms of Action
1.5
22SW04
Herbs for Herpes and Shingles
1.5
22SW05
Isla Burgess, Medical Herbalist
Biophilia - How participating in the lives of the plants that grow around you can in-form your Clinical Practice
1.5
22SW11
David Eisen, LAc, MSW
A Multidisciplinary Integrated Model for Treating Chronic Pain and Opioid Dependence
1.5
22SW14
Deborah Frances, ND
Reclaiming the Sacred in Women's Health: Plants as Allies for Physical, Emotional and Spiritual Healing
1.5
22SW08
Jason Hawrelak, ND
Key Points when Prescribing Probiotics in Clinical Practice
1.5
22SW07
Herbal Medicines and the Gastrointestinal Microbiota - Herbs that Nurture and Herbs that Kill
1.5
22SW15
Jason Miller, DACM, LAc
The Integral Immune System: Harmonizing the Neuroimmune Axis with Botanical Medicine
1.5
22SW18
Kenneth Proefrock, NMD
Botanical and other Protocols for Opiate Use Disorder
1.5
22SW10
Alternatives to Polypharmacy in Conditions of Neurologic Impairment
1.5
22SW19
Katie Stage, RH (AHG)
Finding Balance: Herbs and Treatments to Nurture Yin
1.5
22SW16
Jillian Stansbury, ND
Maintaining a Healthy Heart in the Age of COVID
1.5
22SW17
Treatment for Acute Panic Disorder
1.5
22SW03
David Winston, RH (AHG)
"Just Another Sleepless Night"; Herbal/Nutritional Protocols for Insomnia and Other Sleep Disorders
1.5
22SW24
Spices For Life
1.5
22SW23
Erica Zelfand, ND
Pre-conference Intensive Friday, 3/25, 1:00 – 5:15 PM: Psychedelics--Therapeutic Uses for Psilocybin and LSD in Mental Health
4.0
22SW20
Ketamine in Doses Big and Small: Versatility in Treating Depression and Other Mood Disorders
1.5
22SW02
Questions about continuing education? Please email us and we'll be happy to help.
---